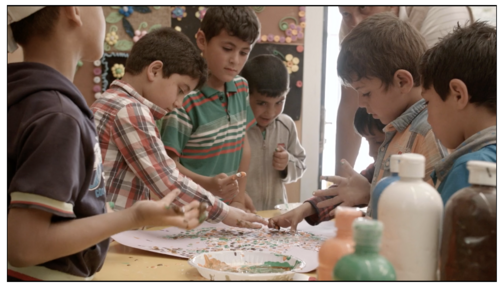 Introduction 
The 38 minute documentary Terror and Hope: The Science of Resilience was filmed by award-winning filmmaker, Ron Bourke. It won the best documentary award at the 2020 Sci-On film festival, the Jury award for Best Short Documentary at the Raw Science Film Festival in Los Angeles, and was finalist in the US and Raw Science Festivals. To mark World Refugee Day, June 20th 2020, the film was offered in a free on-line global screening which included two live discussions hosted by Mr. Bourke. Recordings of these discussions can be viewed on the filmmaker's website: https://www.ronbourkefilms.com/terror-and-hope. The documentary was also screened by program officers of the Fogarty International Center for National Institute of Health program officers in September 2020, followed by a live discussion on scientific engagement in humanitarian settings. Other 2020 screenings include the Canberra Mental Health Film Festival and the annual meeting of the Middle East Studies Association (MESA). 
Mr. Bourke wanted to show, to a general audience, how science works on behalf of refugees in humanitarian settings. He showcased an example of ground-breaking research bridging academic and humanitarian sectors. The documentary features the voices of scientists, humanitarian staff, and Syrian refugee families who had been displaced to Jordan for over three years. In this review we present our reflections – we are three members of the Syrian/Jordanian research team portrayed in this documentary. 
Partnerships 
The documentary showcases the parternships between Mercy Corps, scientists from western and Jordanian institutions, and Syrian refugee families from the community. Mercy Corps is an international humanitarian organization working to "alleviate suffering, poverty and oppression by helping people build secure, productive and just communities" (https://www.mercycorps.org/who-we-are). Much of its work focuses on adolescence, one of the most important times for emotional and social development, with community-based programs to alleviate profound stress and build resilience among youth affected by the Syria crisis. One of their programs was a psychosocial and behavioral intervention, named Nubader in Arabic and Advancing Adolescents in English, implemented in Jordan and the wider region (including Iraq, Lebanon, Syria, and Turkey). 
The scientists were invited by Mercy Corps to measure the effectiveness of the Nubader in Jordan. The study was led by Professor Catherine Panter-Brick, 
anthropologist at Yale University, and funded by Elrha, a global charity that finds solutions to complex humanitarian problems through research and innovation (https://www.elrha.org/project/yale-psychosocial-call2/) with Syrian refugee and Jordanian non-refugee youth. The randomized control trial, begun in 2015, sought to answer one main question: does the program work to demonstrably alleviate stress and improve mental health? As in any good study, new questions were raised. For example, the research team developed a culturally-relevant tool to better measure individual, family, and societal dimensions of resilience. After the trial ended, we continued to meet young people and their families to relay the findings of the evaluation study. In 2019 the team launched a second project guided by an important question raised by the research team in conversation with refugee families: can severe violence experienced during pregnancy be transmitted, as a mark of trauma, across generations? 
Conducting rigorous scientific research under humanitarian conditions is not easy. However, the need for scientific research is very important to ensure that humanitarian programs are impactful and to find ways to improve them. The documentary explains the impact of trauma and toxic stress on refugee health, as well as some of the innovative solutions being developed to undertake community-based research and interventions in contexts of forced migration. It is good at portraying the work of researchers and practitioners on the ground, as they engaged with refugees and proposed new ways to make interventions well-supported. 
Filming 
Filming in Jordan took place at a time when data collection for both research projects – testing the program impacts on youth wellbeing and testing for the inter-generational impact of violence - was near completion. We contacted the families of study participants to ask if they would be willing to be filmed by the cameras, which would accurately capture the interview process. We explained the purpose of the filming. Many participants were scared for their own safety or for the safety of loved ones who were still in Syria, some of whom were in a Syrian prison. Anonymity could be respected if they covered their face and their voices were altered so they would not be identifiable. Some families did not trust a foreign filmmaker's intentions in creating the film. This is understandable, given that many of the crises in the region were made worse because of foreign intervention. Our presence – as researchers of Syrian heritage, living in Jordan and known to local communities through our Foundation, Taghyeer – was key to explaining the process and building trust. Those who chose to participate in the documentary were mainly Syrians who wanted to share their experiences so that the world could hear directly from them, instead of through a journalist. Thus one Syrian mother categorically stated: "I want to share my story with the world." The families met with Mr. Bourke and two Jordanian camera crew members, offering them tea and sweets. Hospitality is important, no matter how poor one might be. 
As a research team, we were eager for this film to be produced because we wanted to show how good science is practiced. The film's emphasis on the collection of research data and fieldwork demonstrated how difficult this process can be. The film is particularly good at showing the psychological burden of asking difficult questions, namely those related to trauma, on both the Syrian study participants and the Syrian/Jordanian research team. We can see the emotion in the faces of those interviewed. Behind the data points collected for a scientific survey are the real lives of parents and children. Through multiple testimonies of women, youth, and researchers, the purpose and value of this research is clear along with importance of compassion in the practice of science. This point is exemplified by the statement made by Jane MacPhail, Mercy Corps Director of Youth Futures: "Your biggest strength as a human is your compassion. If we don't have compassion for ourselves, and we don't have compassion for others, we are lost." 
Unfortunately, due to restricted timing, the documentary was not able to shed light on many other aspects of the research process – for example, the process of obtaining consent from parents and children participating in scientific research. This step was taken very seriously. Informed consent is, of course, a deal breaker for any research to be initiated. We went much further than the usual process of asking program beneficiaries to participate in an evaluation study; indeed, we asked them to co-design some aspects of the program evaluation study, and we co-designed the intergeneration study to answer questions of their own. We wanted to work with families as participating partners in the research, offering them an opportunity to take control of their futures. 
The documentary also could not do full justice to the way Mercy Corps' Nubader initiative has been implemented in the community:, for example, by filming the range of indoor and outdoor activities in which teenagers are engaged. It also could not focus on the after-life of the research project, when we shared the findings with families and children later, in community events. It would have been helpful to show how the research team shared their findings and continued conversations in the local community, since this step is also important to sustain trust, show respect for human dignity, and allow communities to benefit from the scientific research process. 
Dignity 
As a research team, we were inspired and humbled by the resilience and courage of Syrian refugee families. Teenagers, in particular, taught us how to go beyond the mindset of victims, given the importance of having hope and aspirations for one's future. This point was strongly conveyed by Alexandra Chen, a PhD student and scientific collaborator in the Nubader study, who described the children in the film as "true heroes" – this is a strong word, and a very moving moment in the documentary. As researchers we saw the children in a totally different way. For us, this is an important take-home message for the general audience of the fim, and for people who work in the humanitarian sector. Rather than growing the refugee-as-victim mindset, we emphasize how refugee families can develop their own solutions - they know the problems they face, they have agency, and they can work to build a better life. One of the community volunteers helping with the Mercy Corps program, which the film captured in action, stated simply: "These are great children with a lot of hope." 
The bigger picture 
In dealing with issues of war-related stress and trauma, there is always a danger of attributing too much weight to individual psychology. To us it seems important to discuss the social and political causes of suffering, as well as devising social, economic, and political solutions. It seems insufficient to focus on individual-level psychological and behavioral interventions to help refugees, without working towards effective government policies toward the social integration of refugees and material improvements of life conditions. For example, we need to envisage systemic solutions to the refugee crisis, focusing on economic and social integration, rather than accepting the framework of isolating refugees in demarcated refugee camps or marginalizing them in urban centers. In the documentary, Catherine Panter-Brick voiced an observation on the importance of aspiring to a better future to maintain psychological wellbeing. This leads us to encourage a discussion of what the future holds, and what systemic solutions can be imagined. While the documentary inspires us to work towards a better future, and establishes that navigating trauma and toxic stress is crucial, we also see the need to discuss how government policies must be altered to create open and humane policies for refugees and immigrants. 
Based on the fact that there are many films and news reports on the history of conflict in Syria and the Middle East at large, the filmmaker made a deliberate decision to simplify the political history of the crisis, in order to focus on the science and its potential to help people who are displaced by violence. To our knowledge, this is the first film to focus on the current refugee crisis through the lens of science. However, to be fair to the Syrian people who were represented in this film, the film could have explained in a more clear format that the dictaortship regime was mainly responsible for the injustice and atrocities happening on the ground. 
The title of the documentary – Terror and Hope – captures the extreme emotions experienced during a journey of forced displacement. The subtitle – The Science of Resilience – focuses attention on scientific innovations that help broaden our understanding of the aftermath of war, from toxic stress to everyday resilience. The word 'terror' might, for some, recall the global war on terrorism. To the film's credit, the filmmaker avoids stereotypes that refugees could become terrorists, and calls on viewers to recognize their bravery and humanity. 
Conclusion 
This documentary showcased how scientists work with humanitarians to better design programs that help reduce stress and build resilience. It shows the complexity of studying trauma and resilience. Most importantly, the film shows how local and international scientists can work together not only to do better science involving local research teams, but to ensure that research participants are part of the process, respecting their dignity. The film is unique in its portrayal of science to the general public. It sends an important message to the importance of science and collaboration across the world in solving today's challenges. 
References 
Panter-Brick C, Kurtz J, Dajani R (2018). What strong partnerships achieve: Innovations in research and practice. Humanitarian Exchange 72:15-19. 
Panter-Brick C, Eggerman M, Ager A, Hadfield K, Dajani R (2020). Measuring the psychosocial, biological, and cognitive signatures of profound stress in humanitarian settings: impacts, challenges, and strategies in the field. Conflict and Health. 4:40. doi:10.1186/s13031-020-00286-w 
Bourke R (2020). Terror and Hope: The Science of Resilience. Documentary Film. Collective Eye Films. https://www.collectiveeye.org/collections/2016-educational-releases/products/terror-and-hope-the-science-of-resilience
---
Rana Dajani, Dima Hamadmad, Ghufran Abudieh