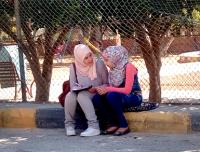 New tool measures resilience in adolescent Syrian refugees
Researchers from Yale University, together with partners at universities in Canada, Jordan, and the United Kingdom, have developed a brief and reliable survey tool to measure resilience in children and adolescents who have been displaced by the brutal conflict in Syria.
Over 5 million people have been forced to flee the six-year-old conflict in Syria, and over 650,000 Syrians are now rebuilding their lives in neighboring Jordan.
---
Jackson faculty member Catherine Panter-Brick, professor of anthropology, health, and global affairs, is the co-editor of the newly released book, "Medical Humanitarianism: Ethnographies of Practice" (2015) along with Sharon Abramowitz.
The volume includes 12 essays that fold back the curtains on the individual experiences, institutional practices, and cultural forces that shape humanitarian practice.
---
New awards:
Wenner Gren Foundation (2016-17). Late-Life Caregiving and Aging in Post-Genocide Rwanda. Aalyia Sadruddin. http://www.wennergren.org/grantees/sadruddin-aalyia-feroz-ali
MacMillan Kempf Fund (2015-16). Colloquium on Violence, Agency, and Innovation. Catherine Panter-Brick and Louisa Lombard.
Research for Health in Humanitarian Crises (2015-16): Measuring the Health Impacts of a Psychosocial Intervention with Refugee Youth (http://www.elrha.org/map-location/yale_psychosocial_r2hc-call2/). Co-PIs: Catherine Panter-Brick, Mark Eggerman, Alastair Ager.
NSF award (2015-17): Masculinity and Fatherhood in Post-trauma and Post-conflict Contexts.  Co-Pis: Catherine Panter-Brick and Kristen McLean. http://www.nsf.gov/awardsearch/showAward?AWD_ID=1528395&HistoricalAwards=false
---
Summary activities:
Download the 2015 Summary Report
Download the 2014 Summary Report
In 2015: The program focused on humanitarian settings - with the launch of specific projects, new publications, workshop discussions, and global partnerships. [Download the 2015 Summary Report & Download the 2015 Early Childhood & Peacebuilding Report]
In 2014: The program supported workshops at Yale University, scientific sessions and the launch of a Consortium at the United Nations, and diverse research projects. [Download report]
---
United Nations HQ NYC
On the occasion of the 2014 UN High Level Forum on The Culture of Peace, on 9th September 2014, members of the Early Childhood Peace Consortium, UNICEF and the Global Movement for the Culture of Peace organized a luncheon with distinguished guests to discuss on the important role that parents can play as they meet their child's mental, emotional, nutritional and physical needs from the very beginning of life. Longitudinal research has shown that when parents invest in their child's development during the early years, there can be lifelong beneficial effects on brain development, the child's well-being and success in adulthood! It is also well established that the earlier the intervention, the greater the long-term economic impact.
---
Research to Policy Talks
Effective Parenting and Peace-Building: In June 2014, Catherine Panter-Brick addressed a Forum at the United Nations headquarters in New York. More…
Children and Violence: Catherine Panter-Brick gave a talk at the Yale Alumni Association of the Northwest (YAANW) to showcase how current Yale partnerships are promoting innovations in science and policy.
The talk (Minneapolis, July 2014), described a global initiative to prevent violence and address multiple childhood adversities. Effective parenting is key – in settings as diverse as Afghanistan, Lebanon, Brazil, and Turkey. The global evidence, however, shows that the bulk of parenting interventions is heavily gender-biased, sidelining the importance of men in their role as fathers: http://onlinelibrary.wiley.com/doi/10.1111/jcpp.12280/abstract. More…
---
Youth, Conflict & Governance in Africa
Friday, 2/28 and Saturday, 3/1, 2014
This workshop is convened to assess how young people are currently changing the nature of governance in Africa. Youth are capitalizing on new mechanisms for interaction: the deregulation of internet, phone, global television, and social media communication has profoundly altered the political terrain. This is especially true in conflict settings, where youth can drive overt political violence. To break new ground, the workshop will integrate analysis across anthropology, media studies and communication, politics and economics, fields that have been working largely in parallel rather than in collaboration.
---
The Early Childhood Peace Consortium Launch took place in New York on 20th September 2013.  Led by Pia Britto (Senior Advisor Early Childhood Development Unit, UNICEF) and the UNICEF-Yale Child Study Center partnership, it brought together leaders in philanthropy, international policy, effective practice, media, and academic research to create a legacy of sustained peace through childhood development.  In the words of Mahatma Gandhi: "If we are to reach real peace in this world and if we are to carry on a real war against war, we shall have to begin with children; and if they will grow up in their natural innocence, we won't have to struggle; we won't have to pass fruitless idle resolutions, but we shall go from love to love and peace to peace, that peace and love for which consciously or unconsciously the whole world is hungering."
See UNICEF on ECD and Peacebuilding: http://www.unicef.org/earlychildhood/index_69852.html
See the Launch of Early Childhood Peace Consortium: http://www.un.org/millenniumgoals/pdf/proposed-side-events-2013-special-event.pdf
The Formative Childhood and Peace Building Forum will take place in Frankfurt from 14-18 October 2013.  Led by James Leckman, Catherine Panter-Brick and Rima Saleh, this think-tank session convenes a large group of international and interdisciplinary scholars to assess the links between child development and violence reduction. The Forum is generously sponsored by the Ernst Strüngmann Foundation (ESF).  Proccedings will be published in an edited volume produce by MIT Press.